Congratulations on the first Good Time N Fella foals for 2010.
2010 filly
Good Time N Fella x Ima Cool Skip mare
2010 colt - 3 days old
Good Time N Fella
Growing up!!! 2010 Good Time N Fella colt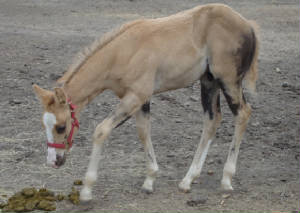 Same colt as above with halter on
Tesign x Exs and Ohs
3/4/10
Sheza Ex Treme Dzyn - Futurity Winner
10-9-10 with Jimmy Lee, Roseau, MN
Exs and Ohs foaled a palomino filly (See above) 3/4/10. Sire is Tesign. She is a full sibling to Ex Tra Ordinary Dzyn and Designed To Imagine, futurity winners and point earners! SHEZA EX TREME DZYN goes along with her full brothers in winning the Red River Valley Select Sire Futurity under both judges! SOLD
Lady Devistator is in foaled a palomino colt 4/4/10 by Good Time N Fella. Cute colt - SOLD - HYPP N/H.